Regular price
Sale price
$20.80
Unit price
per
Sale
Sold out
A robust Vitamin C formula including probiotics, enzymes, acerola cherry, rose hips, and more in our Whole Food Complex Blend.
Certified Organic Whole Food

Only Natural Plant Based Ingredients

We Support Change the World of One
View full details
Collapsible content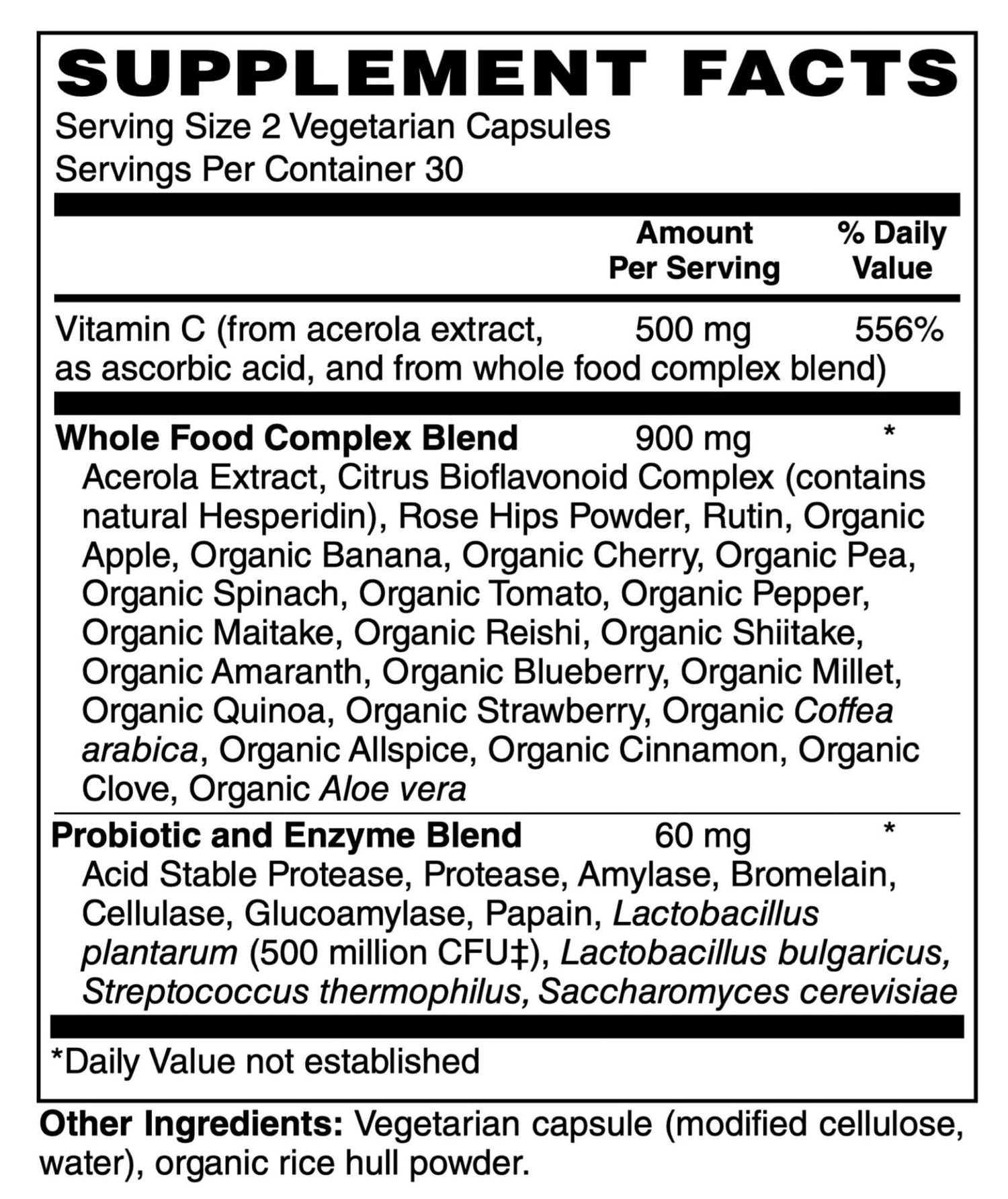 Benefits

Whole Food Vitamin C supplies whole food nutrition, specifically Acerola Cherry Extract, Citrus Bioflavonoids (Hespederin), Rose Hips Powder and Rutin.
Aids in strengthening antioxidant protection, and provides for better immune system support. *
Twenty-three powdered organically grown fruits and vegetables add supporting antioxidants, vitamins and nutrient cofactors. *
Live probiotics and enzymes to support healthy digestion and aid innate immunity. *
Features

Non GMO and VEGAN Certified
500 mg Vitamin C per serving (from acerola extract, as ascorbic acid, and from whole food complex blend)
900 mg Whole Food Complex Blend
60 mg Probiotic and Enzyme Blend (Acid Stable Protease, Protease, Amylase, Bromelain, Cellulase, Glucoamylase, Papain, Lactobacillus Plantarum (500 million CFU‡), Lactobacillus bulgaricus, Streptococcus thermophilus, Saccharomyces cerevisiae)
Free of major food allergens, Contains NO: dairy, wheat, gluten, eggs, peanuts, soy, tree nuts, fish, shellfish, preservatives, artificial colors or flavors
Whole Food, Simple and Clean Excipients
Directions

The general presumption is we should get our nutrients from organically grown, locally picked and in its ripened state. Anyone who has plucked tree-ripened oranges from an orange or lemon tree would certainly agree with this as an ideal choice for Vitamin C. There are phytonutrients and enzyme that fully support the function and benefits of Vitamin C. And here's the real deal:

Are our fruits grown locally, or picked, delivered and eaten fresh? Maybe for a few weeks of the year at best. We know that only about 7.3% of the population even come close to Dietary Recommendation of fresh fruit and vegetables.

When challenged with endemic or epidemic immune events that occur more frequently in modern times, would you be willing and able to eat 6+ oranges 3 timer per day to doseyour Vitamin C?

At 14+ gm of Sugar per orange, could your lifestyle support more than 252 gm of Sugar those oranges would provide?

Modern challenges require creative solutions. Since we don't live stress-free in the Garden of Eden, what can be done to create the best, more natural solution? Our Whole Food Vitamin C is an efficacious dose of Vitamin C with the added benefits of Phytonutrients and Enzymes found in the natural food form.

Directions: As a dietary supplement, adults take two (2) vegetarian capsules daily, or as directed by a health care professional.

Warning: Consult a healthcare provider prior to use if pregnant, nursing, on medications, have a medical condition or are planning a medical procedure. Stop use and contact a physician if adverse reactions occur.

Keep out of reach of children. Do not use if product appears to be tampered with or seal is broken. Store in a cool, dry place and away from direct light.

Contains No dairy, wheat, gluten, eggs, peanuts, soy, tree nuts, fish, shellfish, preservatives, artificial colors or flavors.

*The statements made herein and the products themselves have not been assessed by the U.S. Food and Drug Administration. Neither this information nor our products are intended to diagnose, treat, prevent, or cure any disease. Our products are meant to supplement a healthy diet and lifestyle and are in no way meant to be a substitute for professional health care. As with any new health care regimen, please consult your health care professional to ensure there are no possible complications or potential interactions before using these supplements or any other product. Thank you.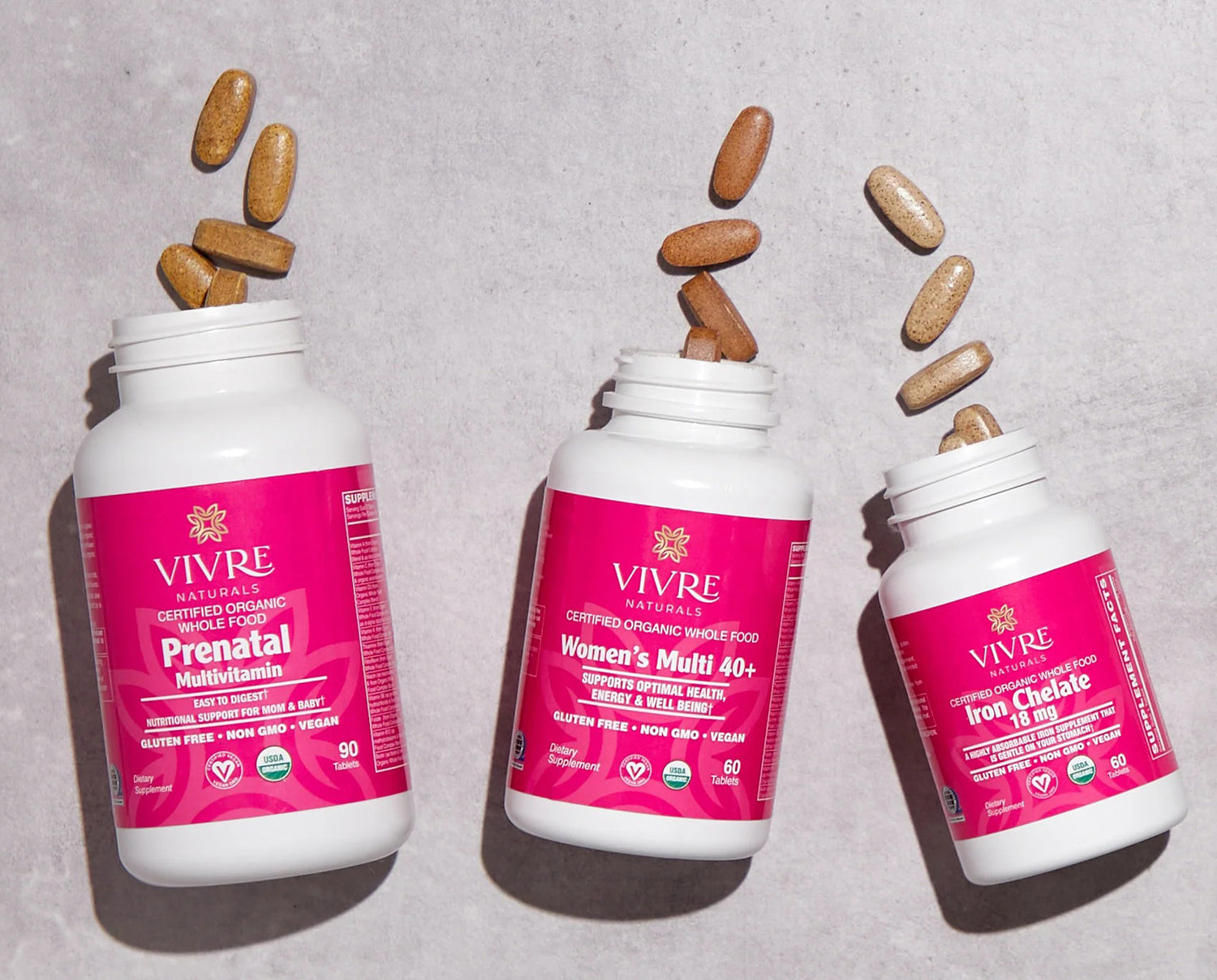 Certified Organic Vitamins
Vivre Naturals is focused on giving you the unrivaled excellence of the earth.
Mindfully-formulated products that are unsurpassed in quality and value.
View our Certifications