Regular price
Sale price
$27.80
Unit price
per
Sale
Sold out
Highly absorbable and fast-acting magnesium from patented Aquamin® in a convenient effervescent powder that mixes easily in water.
Certified Organic Whole Food

Only Natural Plant Based Ingredients

We Support Change the World of One
View full details
Collapsible content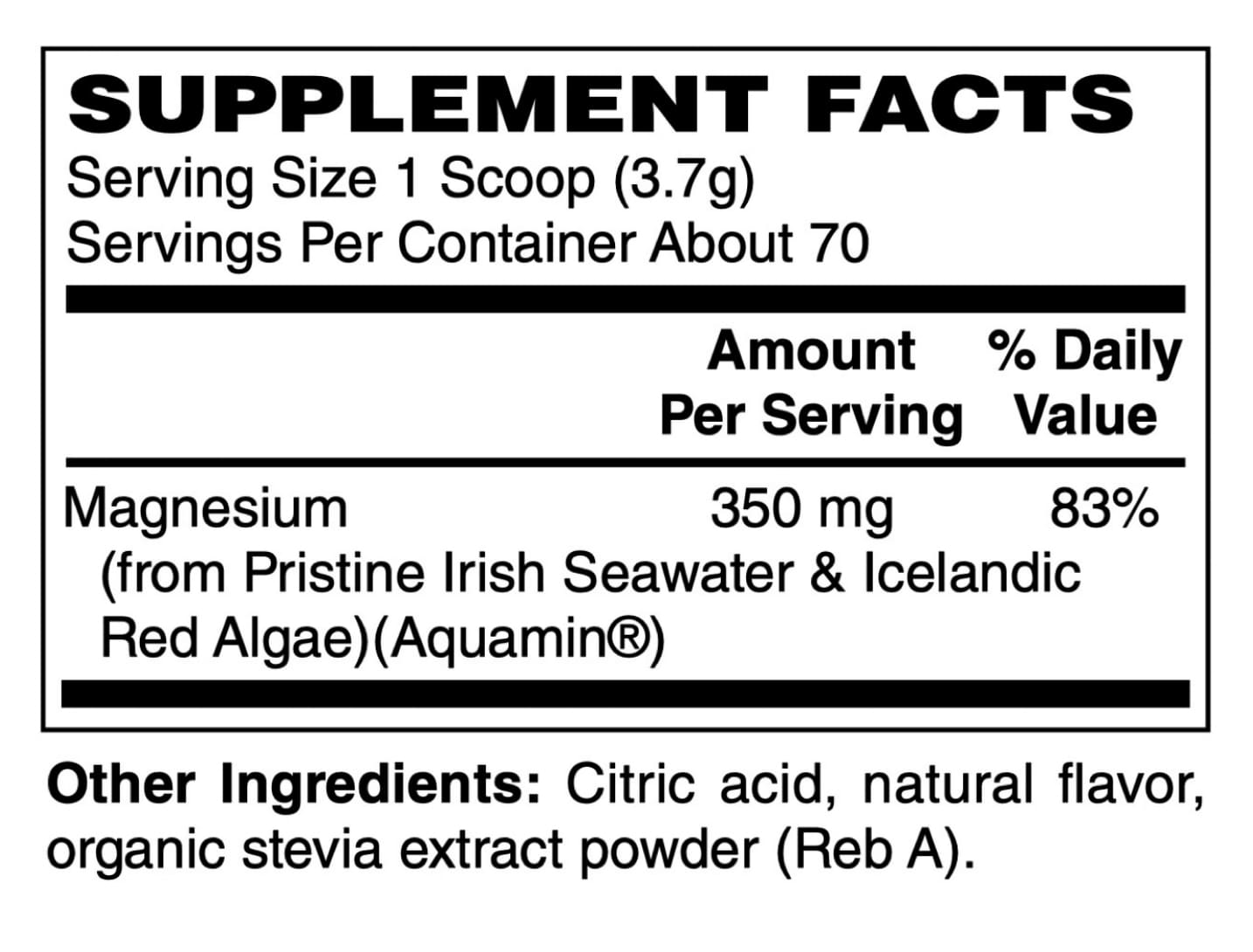 Benefits

Clinical Study supports that Aquamin® 'is bio-accessible and bioavailable to a significantly greater degree' than other forms of Magnesium.
Magnesium a cofactor for well over 300 biochemical reactions. *
Magnesium is required for nutrient metabolism and energy production, muscle function and works synergistically with calcium, where calcium is responsible for muscle contraction and magnesium, muscle relaxation. *
Magnesium is also essential for maintaining a normal, healthy blood pressure, and is required for the synthesis of DNA and RNA, cell membrane function and the activity of hormones, neurotransmitters and other cellular regulators. *
Features

Non GMO and VEGAN Certified
350 mg of Magnesium per serving sourced from Aquamin®, mineralized red algae is collected in the pristine Arctic waters of Iceland & North Atlantic
Convenient effervescent drink mix that mixes easily in water
Highly absorbable and fast-acting
Free of major food allergens, Contains NO: sugar, dairy, yeast, wheat, gluten, eggs, peanuts, soy, tree nuts, fish, shellfish, preservatives, artificial colors or flavors
Whole Food, Simple and Clean Excipients
Directions

Whole Food Magnesium Powder is sourced from whole food marine algae (Lithothamnion calcareum). The source of the magnesium in this formula (Aquamin®) is harvested in the pristine waters of the North Atlantic. Its unique honeycomb cell structure makes it more bioavailable than many other magnesium products. Magnesium is the fourth most abundant mineral in the body that is part of over three hundred biological processes. Most notably it promotes healthy bones and muscles but it is also instrumental in supporting relaxation and can act as a calmative. *

Directions: As a dietary supplement, adults take one (1) scoop daily. Add 1 scoop in a cup and add 2-3 oz. hot water. Let it fizz. Stir until dissolved. Fill cup with additional water or other liquid.

Warning: Consult a healthcare provider prior to use if pregnant, nursing, on medications, have a medical condition or are planning a medical procedure. Stop use and contact a physician if adverse reactions occur.

Keep out of reach of children. Do not use if product appears to be tampered with or seal is broken. Store in a cool, dry place away from direct light.

Contains No sugar, dairy, yeast, wheat, gluten, eggs, peanuts, soy, tree nuts, fish, shellfish, preservatives, artificial colors or flavors.

*The statements made herein and the products themselves have not been assessed by the U.S. Food and Drug Administration. Neither this information nor our products are intended to diagnose, treat, prevent, or cure any disease. Our products are meant to supplement a healthy diet and lifestyle and are in no way meant to be a substitute for professional health care. As with any new health care regimen, please consult your health care professional to ensure there are no possible complications or potential interactions before using these supplements or any other product. Thank you.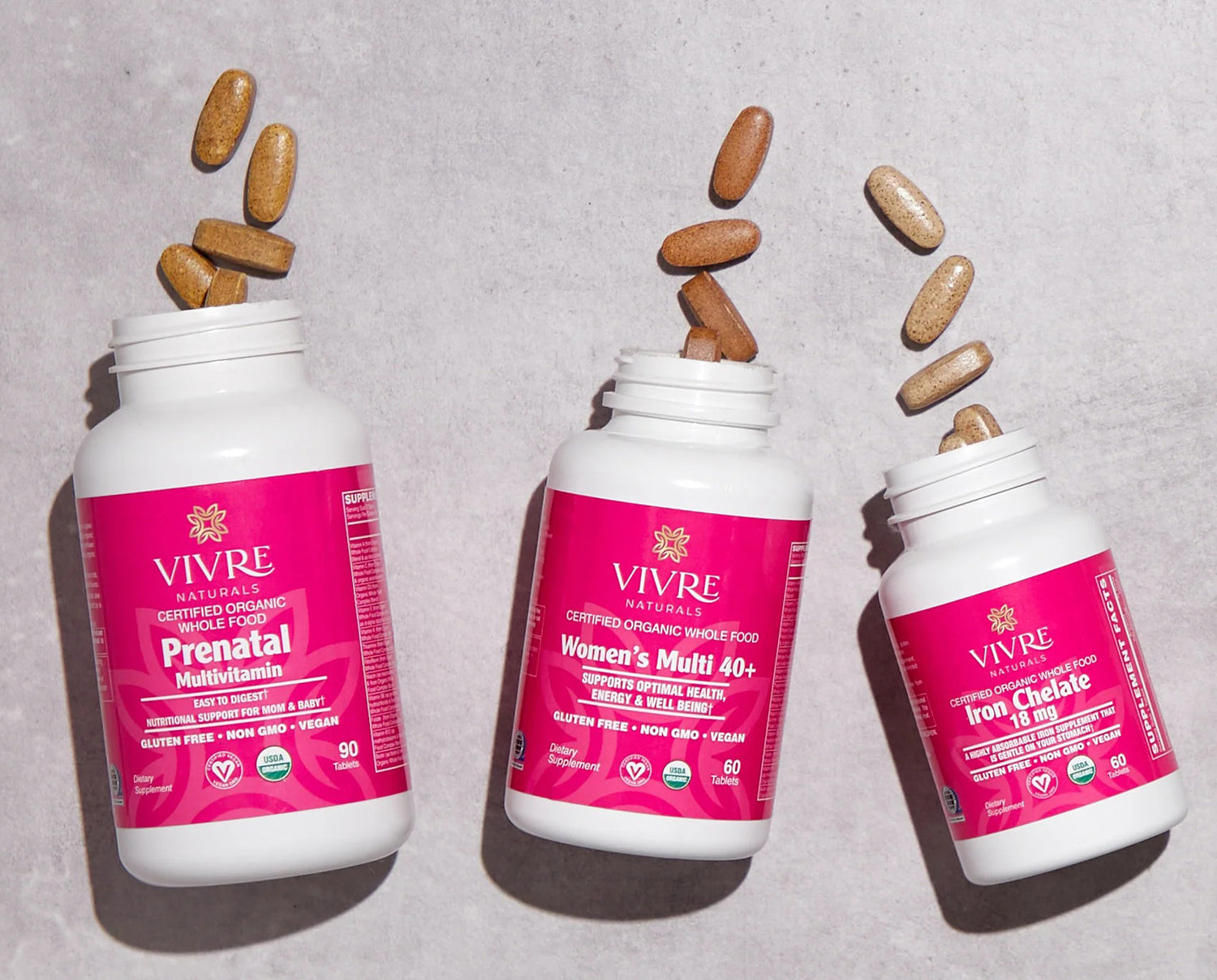 Certified Organic Vitamins
Vivre Naturals is focused on giving you the unrivaled excellence of the earth.
Mindfully-formulated products that are unsurpassed in quality and value.
View our Certifications