Regular price
Sale price
$48.60
Unit price
per
Sale
Sold out
Folate, iron, and our organic fruit, vegetable, and herb whole food complex blend provides easy-on-the-stomach nutrition for moms-to-be.
Certified Organic Whole Food

Only Natural Plant Based Ingredients

We Support Change the World of One
View full details
Collapsible content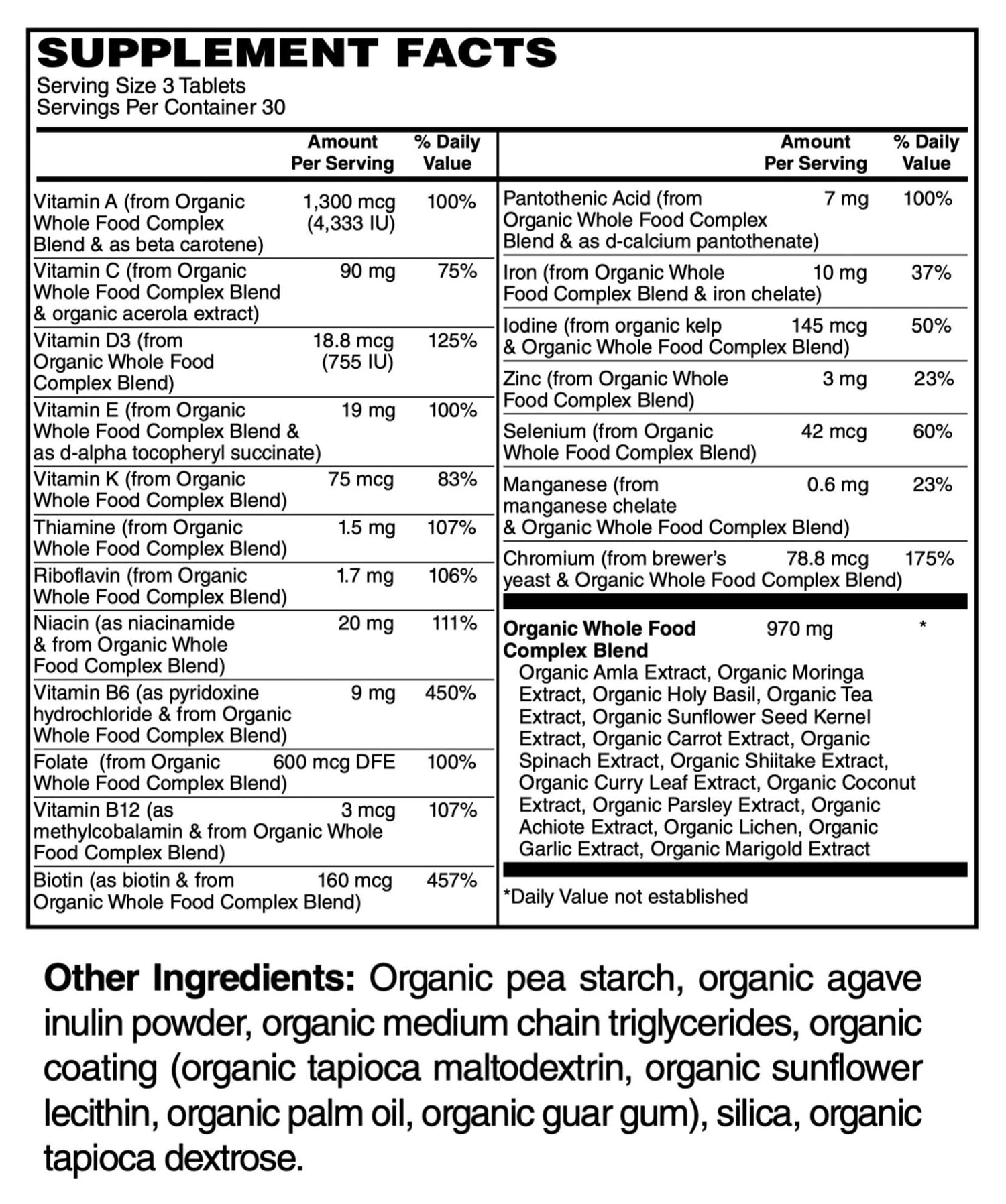 Benefits

Ideal for vegans, vegetarians, people seeking an organic whole food or anyone just trying to be more plant-based.
Phytonutrients from 14 organic fruits, veggies and herbs to provide some level of nutritional insurance for the Mom on the go.
Formulated Specifically for women during Pre-Conception and Pregnancy *
Nutrition to optimize a prospective mother's health & readiness for conception. *
Perfect supplement to address needs of the mom & baby during pregnancy. *
Designed to aid healthy fetal development and supports mom's energy and nutrition. *
Easy to Digest nourishment for Mother & Child. *
Features

USDA Organic and VEGAN Certified
970mg Organic Whole Food Complex Blend, includes 16 Fruits, Vegetables and Herbs: (Organic Amla Extract, Organic Moringa Extract, Organic Holy Basil, Organic Tea Extract, Organic Sunflower Seed Kernel Extract, Organic Carrot Extract, Organic Spinach Extract, Organic Shiitake Extract, Organic Curry Leaf Extract, Organic Coconut Extract, Organic Parsley Extract, Organic Achiote Extract, Organic Lichen, Organic Garlic Extract)
400 mcg DFE of Folate (100% of Recommended DV)
10 mg of Iron (from Organic Whole Food and Chelated)
125% DV of Vitamin B-12 (from Methylcobalamin and Organic Whole Food Complex)
18.8 mcg (755 IU) Whole Food Complex and VegD3® from organic algae
Free of major food allergens, Contains NO: dairy, wheat, gluten, eggs, peanuts, tree nuts, fish, shellfish, preservatives, artificial colors, artificial flavor
Whole Food, Non GMO, Simple and Clean Excipients
Directions

Mom & Baby require special nutrients during pregnancy, and Organic Whole Food Prenatal meets those needs. Organic Whole Food Prenatal is made from real whole food, including powdered organic fruits, veggies and herbs, 14 in total. Organic Whole Food Prenatal helps prospective Moms better prepare for pregnancy and nourishes and protects Mom & Baby during pregnancy, while providing the boost needed for breastfeeding. * Organic Whole Food Prenatal provides 400 mcg of folate to support healthy fetal development. * It also delivers 10 mg of plantbased iron to help fight iron-deficiency anemia, and help Mom expand the blood supply for her developing fetus. * Our Organic Whole Food Prenatal is made from easy-to-digest, real, nutritious organic foods that won't upset your stomach, and is the right choice for any Mom before, during and after pregnancy.

Directions: As a dietary supplement, adults take three (3) tablets throughout the day, or as directed by a health care professional. 

Warning: Consult a healthcare provider prior to use if pregnant, nursing, taking medications, including blood thinners, have a medical condition or are planning a medical procedure. Stop use and contact a physician if adverse reactions occur.

Keep out of reach of children. Do not use if product appears to be tampered with or seal is broken. Store in a cool, dry place and away from direct light.

WARNING: Accidental overdose of iron-containing products is a leading cause of fatal poisoning in children under 6. Keep this product out of reach of children. In case of accidental overdose, call a doctor or poison control center immediately.

Contains No dairy, wheat, gluten, eggs, peanuts, fish, shellfish, preservatives, artificial colors, artificial flavors.

*The statements made herein and the products themselves have not been assessed by the U.S. Food and Drug Administration. Neither this information nor our products are intended to diagnose, treat, prevent, or cure any disease. Our products are meant to supplement a healthy diet and lifestyle and are in no way meant to be a substitute for professional health care. As with any new health care regimen, please consult your health care professional to ensure there are no possible complications or potential interactions before using these supplements or any other product. Thank you.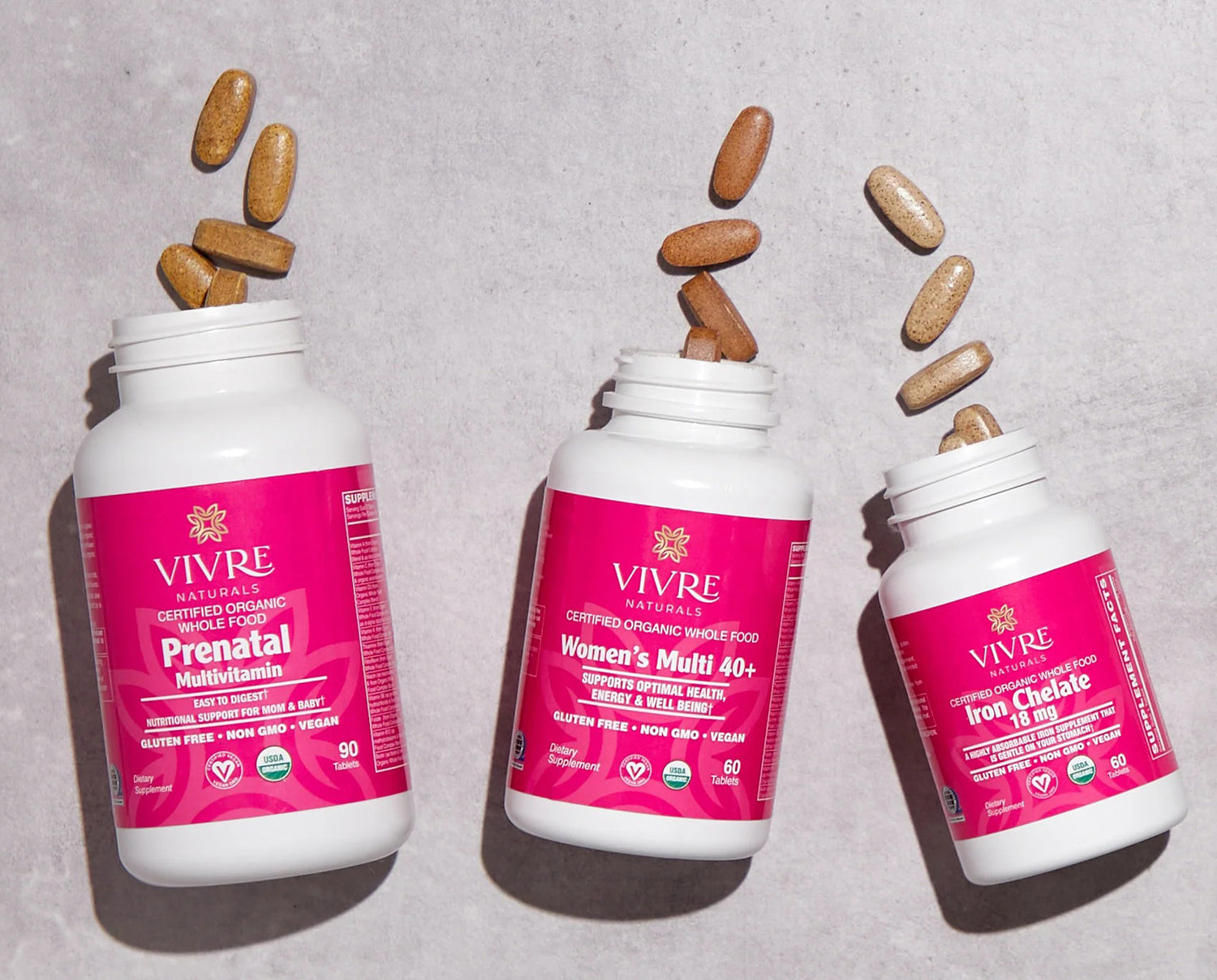 Certified Organic Vitamins
Vivre Naturals is focused on giving you the unrivaled excellence of the earth.
Mindfully-formulated products that are unsurpassed in quality and value.
View our Certifications