Regular price
Sale price
$19.60
Unit price
per
Sale
Sold out
Featuring revolutionary active, trademarked VegD3 vitamin D3. USDA Organic and Vegan Certified
Certified Organic Whole Food

Only Natural Plant Based Ingredients

We Support Change the World of One
View full details
Collapsible content
Benefits

Vitamin D is important for normal, healthy cell growth and function. *
Vitamin D helps support normal, healthy insulin secretion. *
Vitamin D helps support healthy immune function. *
Vitamin D is most often used for Immune Support and Bone Health. *
Vitamin D is essential for calcium and phosphorus absorption and utilization. *
Stimulates osteoblast (bone producing cell) activity which helps maintain bone density and strength. *
Stimulates the synthesis of osteocalcin, an important protein involved in bone formation. *
Helps maintain adequate blood calcium levels which help support cellular metabolic processes, cardiovascular and neuromuscular/neurological function. *
Features

USDA Organic and VEGAN Certified
50 mcg (2000 IU) VegD3® as cholecalciferol from organic algae Registered Trademarked, Certified Organic, Vegan Society Approved Vitamin D3
Free of major food allergens, Contains NO: dairy, yeast, wheat, gluten, preservatives, artificial colors or flavors
Whole Food, Non GMO, Simple and Clean Excipients
Directions

This revolutionary active Vitamin D3 (cholecalciferol) uses trademarked VegD3®, approved by the Vegan Society certified. VegD3® was tested extensively to prove that it is chemically-identical to cholecalciferol of animal-origin. This takes away any uncertainty about absorption or efficacy (as it is literally neat, pure cholecalciferol, it meets all regulatory requirements). VegD3® is extensively stability-tested to ensure that it offers a shelf-life that is at least the same as lanolin-origin D3. Our Certified Organic Whole Food Vitamin D3 provides a vegan form of vitamin D, a natural algae food form, at a highly efficacious dose.

Directions: As a dietary supplement, adults take one (1) tablet daily, or as directed by a health care professional. 

Keep out of reach of children. Do not use if product appears to be tampered with or seal is broken. Store in a cool, dry place and away from direct light.

Warning: Consult a healthcare provider prior to use if pregnant, nursing, on medications, have a medical condition or are planning a medical procedure. Stop use and contact a physician if adverse reactions occur.

Contains No dairy, yeast, wheat, gluten, preservatives, artificial colors or flavors

*The statements made herein and the products themselves have not been assessed by the U.S. Food and Drug Administration. Neither this information nor our products are intended to diagnose, treat, prevent, or cure any disease. Our products are meant to supplement a healthy diet and lifestyle and are in no way meant to be a substitute for professional health care. As with any new health care regimen, please consult your health care professional to ensure there are no possible complications or potential interactions before using these supplements or any other product. Thank you.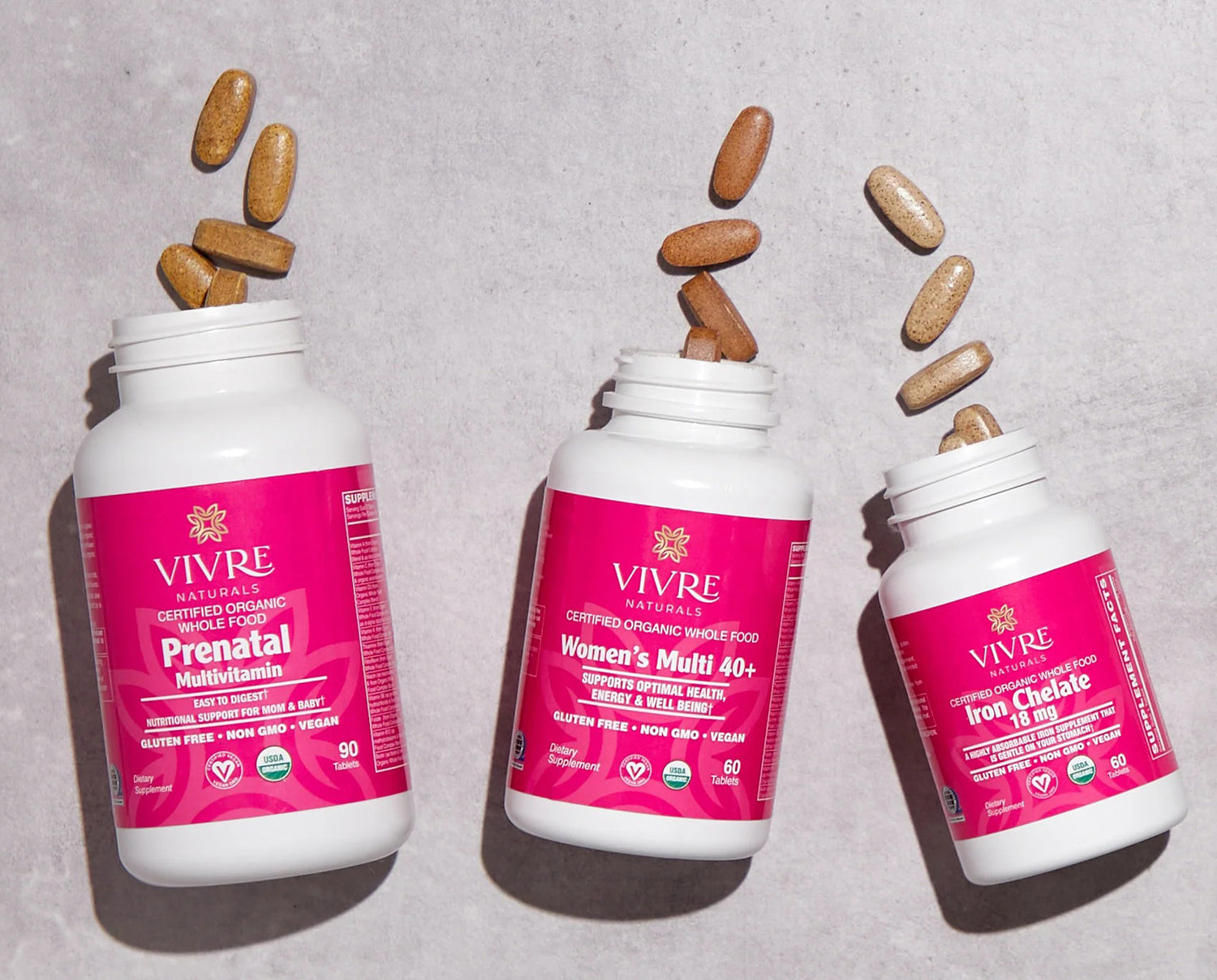 Certified Organic Vitamins
Vivre Naturals is focused on giving you the unrivaled excellence of the earth.
Mindfully-formulated products that are unsurpassed in quality and value.
View our Certifications